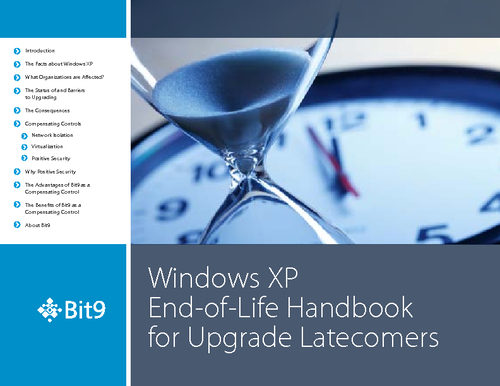 April 8, 2014, is the end-of-life date for Windows XP and Microsoft Office 2003. After that date, there will be NO MORE security updates and critical patches available unless you pay the high cost of out-of-band support. You considered upgrading to Windows 7 or Windows 8 but your hardware won't run these operating systems, or your XP applications won't run on the newer operating systems, or you simply can't afford to upgrade. If you do nothing, you know your systems will be subject to malware attacks and put your organization in a noncompliant state.
Download this new eBook now to learn:
What compensating controls you can deploy to keep your XP systems compliant and secure after end of life;
Why positive security is the best compensating control to keep your XP systems compliant and secure without any infrastructure restrictions;
How positive security goes one step further and keeps your enterprise infrastructure secure and compliant regardless of the life stage of your operating systems.