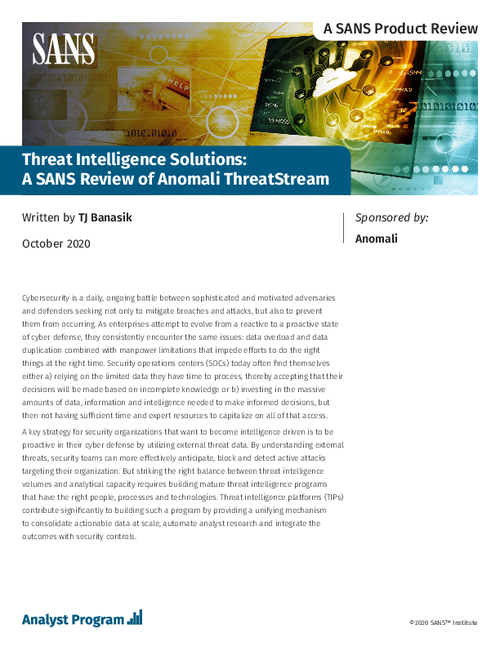 Overcoming the Cybersecurity Skills Gap and Data Overload Requires Technologies Like ThreatStream
Cybersecurity is a daily, ongoing battle between sophisticated and motivated adversaries and defenders seeking not only to mitigate breaches and attacks but also to prevent them from occurring. A key strategy for security organizations that want to become intelligence-driven is to be proactive in their cyber defense by utilizing external threat data.
To better understand technologies specifically designed to empower cybersecurity teams to work smarter and faster while capitalizing on massive troves of cyber intelligence, SANS took an opportunity to review Anomali ThreatStream. In this paper, TJ Banasik, SANS Expert, covers these elements:
Review of ThreatStream's features
Complimentary Anomali products
Several use-case performance reviews
"Our experience with Anomali ThreatStream was overwhelmingly positive. It proved to be a very powerful threat intelligence platform that has significant benefits for security and intelligence analysts struggling to aggregate intelligence, enabling them to make sense of it quickly to recommend or take actions critical to the security of their organization." - TJ Banasi.
Read the full paper to learn more about the SANS review of Anomali ThreatStream.