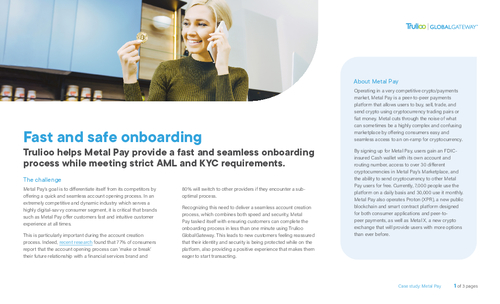 Identity verification helps Metal Pay provide a fast and seamless onboarding process while meeting strict AML and KYC requirements
Operating in the crypto/payments market, Metal Pay is a peer-to-peer payments platform that allows users to buy, sell, trade, and send crypto using cryptocurrency trading pairs or fiat money.
As an extremely competitive and dynamic industry which serves a highly digital-savvy consumer segment, it's critical that brands such as Metal Pay offer customers a fast and intuitive customer experience at all times.
Wanting to differentiate itself from its competitors, this case study details how Metal Pay partnered with Trulioo to provide seamless digital identification and account creation, meeting strict AML, KYC and compliance requirements, while adhering to security measures.