What Is DDoS?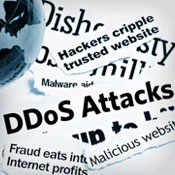 A distributed-denial-of-service attack occurs when multiple systems flood the bandwidth or resources of a targeted system, usually one or more web servers.
See Also: 2019 Year in Review Cyber Threats & Trends
This is the result of multiple compromised systems (for example a botnet) flooding the targeted system(s) with traffic.
For more information about DDoS attacks and the recent campaigns targeting financial institutions in the U.S., see: