Ecuador Hit With 'Cyberattacks' After Assange's Arrest
Millions of Volumetric Attacks Designed to Block Access to Websites, Official Says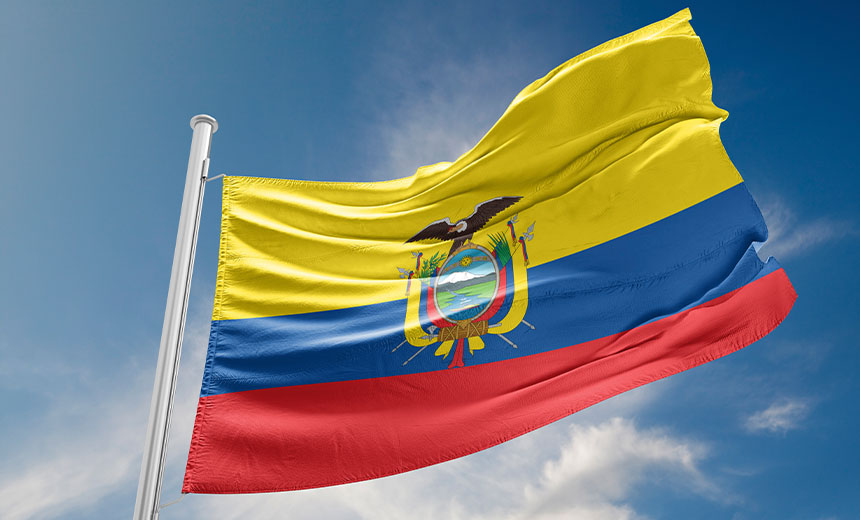 The government of Ecuador has been hit with as many as 40 million "cyberattacks" following its withdrawal of asylum protection for WikiLeaks' founder Julian Assange and his arrest by British police last week, a deputy government minister tells Agence France-Presse (see: WikiLeaks' Julian Assange Arrested; US Seeks Extradition).
See Also: Assessing Cyber Risk for the Defense Industrial Base
The attacks began almost immediately following Assange's removal from Ecuador's London embassy on Thursday, according to the report. The cyberattacks have targeted government websites, Patrico Real, Equador's deputy minister for information and communication technologies, tells AFP.
Javier Jara, Equador's undersecretary of the electronic government department of the telecommunications ministry, categorized the activity as "volumetric attacks," referring to high-volume denial-of-service attacks, according to AFP.
The attacks, designed to block access to the government websites, came following "threats from those groups linked to Julian Assange," Jara tells AFP.
In volumetric attacks, the attackers use massive amounts of traffic to saturate the bandwidth used by the target. These attacks, which are easy to generate using simple amplification techniques, can overwhelm a website, according to the security firm ThousandEyes.
Websites Targeted
Among the various Ecuadorian institutions hit by these attacks against their websites are the county's foreign ministry, the central bank, the president's office, the internal revenue service as well as several other smaller ministries and some of the country's universities, according to both government officials who spoke to AFP. None of the affected organizations have reported any data missing.
The cyberattacks originated from within Ecuador as well as the U.S., the U.K., Brazil, Holland, Germany, Romania, France and Austria, Real tells AFP.
Assange and Ecuador
For the past seven years, Ecuador gave Assange asylum within its London embassy after the Australian native skipped out on bail while being investigated in the U.K. by Swedish police for sexual assault crimes.
Since 2012, Assange lived in the Embassy and continued to run WikiLeaks and give press conferences from a balcony. British police maintained a presence near the embassy, waiting for the time he tried to leave or his asylum status was withdrawn.
On April 11, Ecuadorian President Lenin Moreno withdrew asylum protection for Assange following years of disagreements, and the 47-year-old was removed from the embassy by British police. He was taken to a London court and found guilty of the violating the terms of his bail and remanded to custody until he's sentenced in the coming months.
Ecuador decidió soberanamente retirar el asilo diplomático a Julian Assange por violar reiteradamente convenciones internacionales y protocolo de convivencia. #EcuadorSoberano pic.twitter.com/V02pvvtPY0

— Lenín Moreno (@Lenin) April 11, 2019
Simultaneous to his arrest, the U.S. Justice Department unsealed an indictment that charged Assange with "conspiracy to commit computer intrusion for agreeing to break a password to a classified U.S. government computer." The case stems from a 2010 incident where former Army intelligence analyst Chelsea Manning gave WikiLeaks numerous files related to U.S. foreign policy, including the wars in Iraq and Afghanistan.
The U.S. has asked British authorities to extradite Assange for trial. Meanwhile, Sweden reportedly has reopened its investigation into the sexual assault charges.
Assange's attorneys plan to fight extradition to the U.S., according to news reports. In addition to withdrawing asylum protection, the Ecuadorian government stripped Assange of the citizenship he was granted in 2017 by former President Rafael Correa, according to AFP.